Mas Mol­era is located in the Begudà vol­canic area, within the Gar­rotxa Nat­ural Park, and is sur­rounded by very old oak trees and elms, fields and meadows.
Begudà has got a notable his­tor­i­cal her­itage, still appre­ci­ated in the 12th cen­tury Romanic Santa Eulalia church, its sur­round­ing manor houses and a nearby pointed-​arch bridge.
Begudà is a dis­trict in Sant Joan les Fonts munic­i­pal­ity, within the Olot-​Garrotxa county. This area is pre­dom­i­nantly hilly and the Flu­via river runs along the valley.
Sant Joan les Fonts and the Gar­rotxa Vol­canic Nat­ural Park
Sant Joan les Fonts is the sec­ond town in pop­u­la­tion of the county and its name comes from the many springs and foun­tains of the area ("Fonts" mean­ing "Foun­tains"). The more promi­nent vol­canic for­ma­tions in Sant Joan les Fonts include Puig Aiguane­gra and Can Repas­sot, located south of the town.
Sant Joan les Fonts has its ori­gins back to the 9th cen­tury, but its first stand­ing mon­u­ment, the medieval bridge, was built around the 12th cen­tury. Another inter­est­ing place is Estada Juvinyà an old knight's house and mill built in the 11th cen­tury and one of the bet­ter pre­served exam­ples of civil­ian medieval con­struc­tions in Cat­alo­nia. The Monastery of Sant Joan les Fonts is also worth a visit: con­structed in Romanic style in the medieval ages, it has been reformed many times and some of the struc­tures date back to the 18th century.
How­ever the most inter­est­ing site to visit in Sant Joan les Fonts is Molí Fondo ("Deep Mill"): an old paper mill ruins next to three well-​defined lava set flows in a breath­tak­ing land­scape by the Flu­vià River. These lava set flows come from dif­fer­ent old erup­tions of nearby vol­ca­noes, being the older 700.000 years old and the younger 120.000.
Other sights of the town: Cin­gles de Font­freda and vol­ca­noes of Clap­er­ols, Sant Cosme, Aiguane­gra, Repàs, Repas­sot and Cairat.
Our cul­tural sug­ges­tions:
ESTADA JUVINYÀ MEDIEVAL HOUSE
The medieval for­ti­fied manor house belonged to the Juvinyà dynasty of knights and today hosts the Ter­ri­to­r­ial Inter­pre­ta­tive Cen­ter. In 1972 it was listed as Mon­u­ment of National Interest.
From the main wall, you can well observe the two sec­tions con­sti­tut­ing the build­ing: the 12th cen­tury tower and the rest of the house dated from the 14th cen­tury. A water chan­nel is sur­round­ing the tower, which back in the 13th cen­tury was used to power the machin­ery of the flourmill.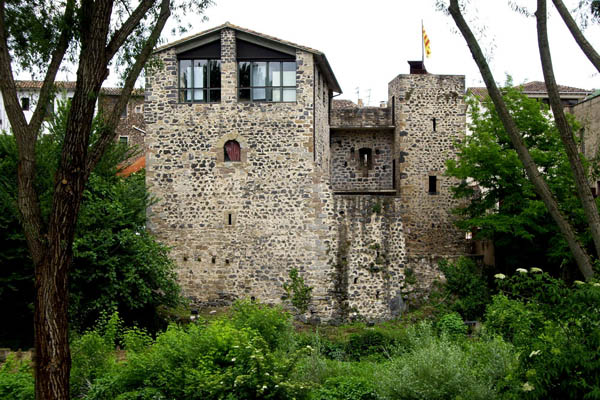 A pedes­trian itin­er­ary:
"TRES-​COLADES ROUTE" BASALT CLIFF IN SANT JOAN LES FONTS
The walk goes along an inter­est­ing area of basalt cliffs formed as the result of the cool­ing of streams of lava com­ing from dif­fer­ent vol­ca­noes. There are also river­side forests with species of high botan­i­cal value and some stand­ing exam­ples of 19th cen­tury indus­trial archi­tec­ture by the riverbank.
MOLÍ FONDO – 3 km from Mas Molera
Here you can see three solid­i­fied streams of lava. The old­est one com­ing from the vol­ca­noes of Batet and is 600.000 years old. The sec­ond one, that forms the basalt mosaic, has an unknow ori­gin and was formed 150.000 years ago, and the youngest one (comes from the Gar­ri­nada vol­cano and is about 120.000 years old.
EL BOSCARRÓ
El Boscarró is a for­mer basalt quarry that stopped its works at the begin­ning of the 20th cen­tury. Basalt results from cool­ing of streams of lava and is a hard, iso­lat­ing and corrosion-​resistant stone that has been exten­sively used for paving stones. Dur­ing the cool­ing process of lava, basalt takes dif­fer­ent shapes, like prism and lens. Long cen­turies of ero­sion have uncov­ered the cliffs of Font­freda now turned into a resort area. Beyond this point, the itin­er­ary goes across the river along a stone pas­sage and runs some meters by the left bank to go back, later, to the right bank.
Access: The itin­er­ary starts at the Plaça Major of Sant Joan les Fonts. El Molí Fondo and El Boscarró are 800 m (20 min­utes) away, the whole itin­er­ary is 5.5 km (1 hour and 50 minutes).